Bob & Linda's 2007 Trans-Canada Highway Trip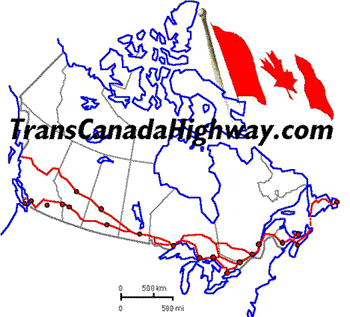 2007 Trans-Canada Highway Trip
Well we're about to head out on our next motorcycle trip. We have decided to do the Trans-Canada Highway this year - well a portion of it anyway. The Trans-Canada Highway is the worlds longest national highway with a distance of 10781 kilometers (6699 miles). Technically the highway begins on Vancouver Island but we will cross over the border at Sumas, WA and pick up the highway there. Crossing the border at Blaine is just too much hassle these days and, if we took the ferry over to Vancouver Island, we would have to deal with all of the traffic of going through Vancouver. If you want to compare the two crossings, here's the crossing at Blaine and here's the crossing at Sumas.
We're not quite as well prepared as we have been in previous years. Because of my bout with cancer and the necessary treatments, we weren't sure when we would be able to leave and even if we would be able to get out at all this year. As it is things have worked out pretty well and I'm feeling pretty good - all things considered. I still haven't regained all of my stamina, so our plan is to head east until we are half tired and then turn around. Not sure when that would be but we'll see. We had originally targeted Sault Ste. Marie but we'll have to play it by ear. Once we turn around, we'll probably head back into the states and pick up Route 2 for the return trip. We took this road east several years ago when we went back to Minneapolis for a wedding and found it to be a very enjoyable ride.
The only real thing new since our last trip has been the purchase of heated vests. On our last trip, we promised ourselves we wouldn't leave on another trip without heated clothing. Even though we go out in August or September, it's still not unusual to hit 40 - 50 degree weather along the way. We chose Gerbing for our vests and are looking forward to trying them out - although I don't want to need them too often.
Like previous trips, we are planning to track our route using a GPS and will be taking pictures using the digital camera. We'll try to post a map and the pictures each evening but I'm not sure about the running commentary. I'm sure we will post a few comments if we encounter something really interesting but may not be as verbose as in previous years.
Just to refresh everyones memory, there are links below to each day of the trip. The route will be overlaid on a fully interactive Google Map. That means you will be able to zoom in on any section of the route, pan around the entire map, and do this over a street map background or a satellite image background or a hybrid view. We hope this will be more interesting. Secondly, our pictures will be geotagged - that means each picture will be tagged with the exact location where it was shot. Each picture will be indicated on the interactive map as a small pointer. Clicking on a pointer will display a thumbnail of the picture and, clicking on the thumbnail, will display a full size image of the picture. To do all this, we will be using our Garmin Forerunner 201, a Canon A620 digital camera, and a very cool program named RoboGEO.
For anyone who is following along, I have added another page tonight. If you click on the "Trip To Date" link below, you get a map of the entire trip up to the current date. This is strictly a route map - no pictures, quicklinks, or text. I hope you enjoy it.
| | |
| --- | --- |
| Day 1 - 8/16/2007 | Everett, WA to Kamloops, BC |
| Day 2 - 8/17/2007 | Kamloops, BC to Banff, AB |
| Day 3 - 8/18/2007 | Banff, AB to Medicine Hat, AB |
| Day 4 - 8/19/2007 | Medicine Hat, AB to Moosomin, SK |
| Day 5 - 8/20/2007 | Moosomin, SK to Kenora, ON |
| Day 6 - 8/21/2007 | Kenora, ON to Thunder Bay, ON |
| Day 7 - 8/22/2007 | Thunder Bay, ON to Wawa, ON |
| Day 8 - 8/23/2007 | Wawa, ON to Marinette, WI |
| Day 9 - 8/24/2007 | Marinette, WI to Naperville, IL |
| Day 10 - 8/25/2007 | Naperville, IL |
| Day 11 - 8/26/2007 | Naperville, IL to Owensboro, KY |
| Day 12 - 8/27/2007 | Owensboro, KY |
| Day 13 - 8/28/2007 | Owensboro, KY to Boonville, MO |
| Day 14 - 8/29/2007 | Boonville, MO to Sioux City, IA |
| Day 15 - 8/30/2007 | Sioux City, IA to Hot Springs, SD |
| Day 16 - 8/31/2007 | Hot Springs, SD to Hardin, MT |
| Day 17 - 9/01/2007 | Hardin, MT to Missoula, MT |
| Day 18 - 9/02/2007 | Missoula, MT to Union Gap, WA |
| Day 19 - 9/03/2007 | Union Gap, WA to Everett, WA |

Statistics and Wrapup


2000 - Sturgis
2001 - Kartwheels Across America
Contact Us
Home