| | | |
| --- | --- | --- |
| | LA or Bust - 2009 Trip - Day 11 | |
Start Location: Clarksville, TN
Ending Location: LaGrange, KY
Miles Today: 272
Trip Miles: 3866
States Visited: 15
National Parks Visited: 2
Low Temp: 72.1° F
High Temp: 94.9° F
Min Elevation: 389'
Max Elevation: 940'

Route Map:

LA or Bust-Day 11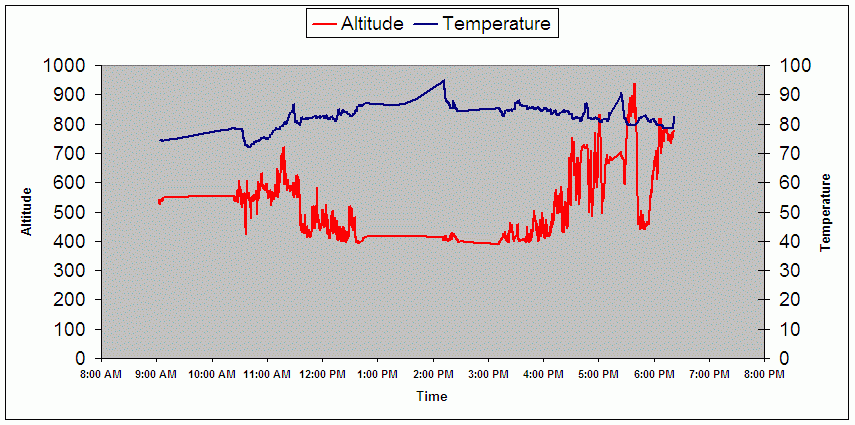 A busy day today. First the tire. After a little more research, we found that there was a Honda dealer in Clarksville - where we were staying. After even more research we discovered that the dealer was about 250 yards from our motel. We could have walked there. Anyway we got there at 9:00 when they opened and left by 10:30 with a brand new rear tire and $418 poorer. Now that may seem like a lot to pay for a tire - and it is - but, when you only have two tires between you and the road at 70 miles per hour, you want really good tires. This is a top of the line tire and cost about $248 which is the retail price - not much opportunity to bargain in our situation. Labor was another $120 or so. This seemed high but, while we were waiting, I walked around the dealership and counted 12 to 14 people wandering around, drinking coffee, and surfing the Internet (this doesn't include mechanics who were actually working) and I guess someone has to pay their wages. I looked back at the last time we bought a tire on the road and it was a front tire in Menominee, WI. That tire was $175 and front tires are quite a bit smaller than rear tires. All in all we are happy to be riding on a new tire.

We left the dealership in the rain, but the rain stopped within 10 minutes and shortly after that we stopped and removed the rain gear for the rest of the day. Soon after that we crossed over into Kentucky. The lost time upset our plans a little, so we decided to stop in Owensboro since we were so close anyway. First we stopped for lunch and then we had a nice visit with Peggy, a good friend of Linda's who still lives in Owensboro. From there we went to the Blue Meridian Dive Shop which is owned by Susan, another friend of ours. Susan trained and certified Linda and me, and we have spent many hours under water with her. Susan is a very nice lady and plans great dive trips - we can't wait for the next one.

After all of our visits, we headed out of Owensboro and crossed over the new William H. Natcher Bridge into Inidiana where we followed I-64 towards Louisville and crossed back into Kentucky. After getting through Louisville, we finally stopped for the night. We are now in the Eastern Time Zone. The problem is that our bodies are still somewhere between the Mountain and Central Time Zones. We'll probably get caught back up about the time we are going in the opposite direction and gaining time again.

On to Cleveland tomorrow and a few days of rest.