| | | |
| --- | --- | --- |
| | LA or Bust - 2009 Trip - Day 12 | |
Start Location: LaGrange, KY
Ending Location: Westlake, OH
Miles Today: 327
Trip Miles: 4193
States Visited: 16
National Parks Visited: 2
Low Temp: 64.4° F
High Temp: 89.8° F
Min Elevation: 635'
Max Elevation: 1396'

Route Map:

LA or Bust-Day 12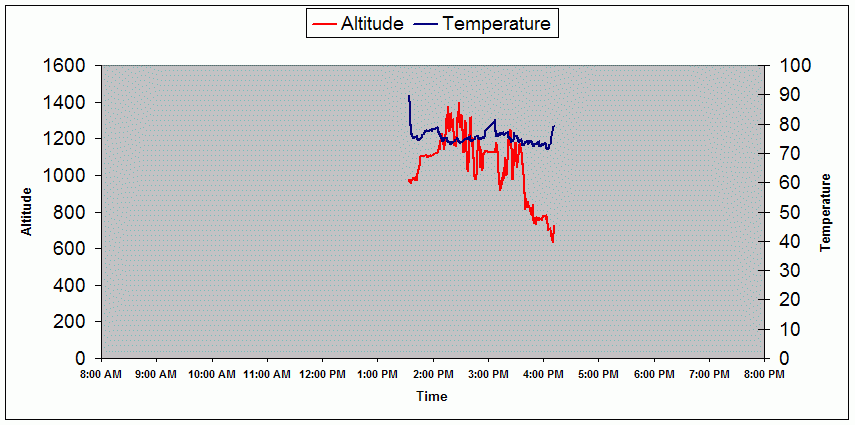 I knew it would happen sooner or later. I forgot to plug in the data logger before we took off this morning. In fact I didn't remember it until we were at a rest stop north of Columbus. I did plug it in then so the graph of temperature and elevation only covers part of the trip. I wanted a complete map for the trip to date feature but, like the other data, I only had trackpoints for the last part of the trip. Fortunately, I was able to use Sporttracks to edit and add trackpoints and create a complete map of our ride today. If you zoom closely, you might see places where the route doesn't follow as closely as other days, but it works for our purposes. Pictures posed a minor problem but there were only 5 and they were all close to downtown Cincinnati so I moved them all to the same place.

The ride wasn't particularly exciting since we rode the entire way on I-71. We have taken this road many times in the past when we lived in Owensboro and visited Cleveland so there was not much new to see. There were also not many side roads that looked interesting and, besides that, we just wanted to get there and take a few days off.

We got in about 4:00 and were glad to be here.

I never got around to putting this together Thursday night, so it's now Friday afternoon. I rode out to a dealer in Avon this morning to get an oil change. What a difference from the tire change experience a few days ago. There were 5 people in the whole shop - 2 mechanics, 2 parts people, and 1 salesman. I walked around the shop, talked to the mechanics, and they even had a wash booth and washed the bike when they were done. After 12 days on the road it really needed it. I usually clean bugs off the windshield every other day or so, but the rest of the bike gets very dirty.

I'm not planning a write up for Day 13 or 14 but should get one in for Day 15 after our ride to Chicago on Sunday.