National Parks - 2012 Trip - Statistics
Total Trip
| | |
| --- | --- |
| Total Days | 15 |
| Days on the Road | 15 |
| Total Miles | 5145 |
| Miles/Day | 343 |
| Low Mileage Day | 237 |
| High Mileage Day | 533 |
Gas and Mileage
| | |
| --- | --- |
| Total Gas Stops | 35 |
| Total Gallons | 134.55 |
| Total Gas Cost | $519.59 |
| Average Miles/Gallon | 38.2 |
| Average Cost/Gallon | $3.861 |
| Low Cost/Gallon | $3.459 - El Paso, TX |
| High Cost/Gallon | $4.227 - Big Bend NP |
General
| | |
| --- | --- |
| Total States Visited | 9 |
| Total National Parks Visited | 7 |
| Total National Monuments Visited | 3 |
| Lowest Temperature | 41.3° |
| Highest Temperature | 121.0° |
| Lowest Elevation | -221' |
| Highest Elevation | 9,120' |
| Days with Rain | 2 |
| Nights in Motels | 13 |
| Average Cost/Night | $103.70 |
| Low Cost Night | $72.21 |
| High Cost Night | $141.37 |
| Wireless Connections | 13 |
| Wired Connections | 0 |
| Telephone Connections | 0 |
Web Statistics

As I have often mentioned, statistics can be misleading. There are so many things you can measure and so many ways to measure them. I have used some of the built-in statistics from my host company in the past so I usually show the same ones for the sake of comparison. It appears that one of the site statistics packages stopped working in February of 2012 so I only have one of the same charts for comparison. That would be the daily statistics chart.

Here are the daily statistics for September, 2012: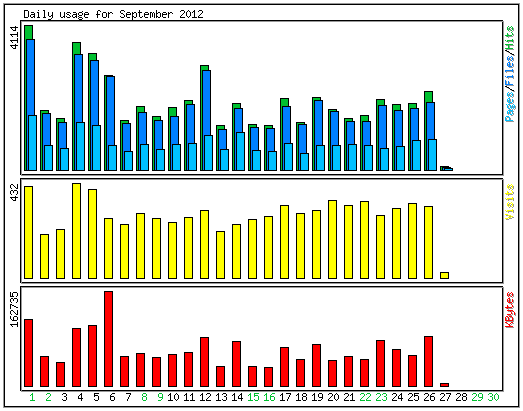 While this is interesting, I want to know more - like how many visits or page views for specific pages. To get that information I have been using Google Analytics which provides way more information than I could ever use. So here's the visits and page views for just the National Parks 2012 web pages for the 31 days beginning the day we left: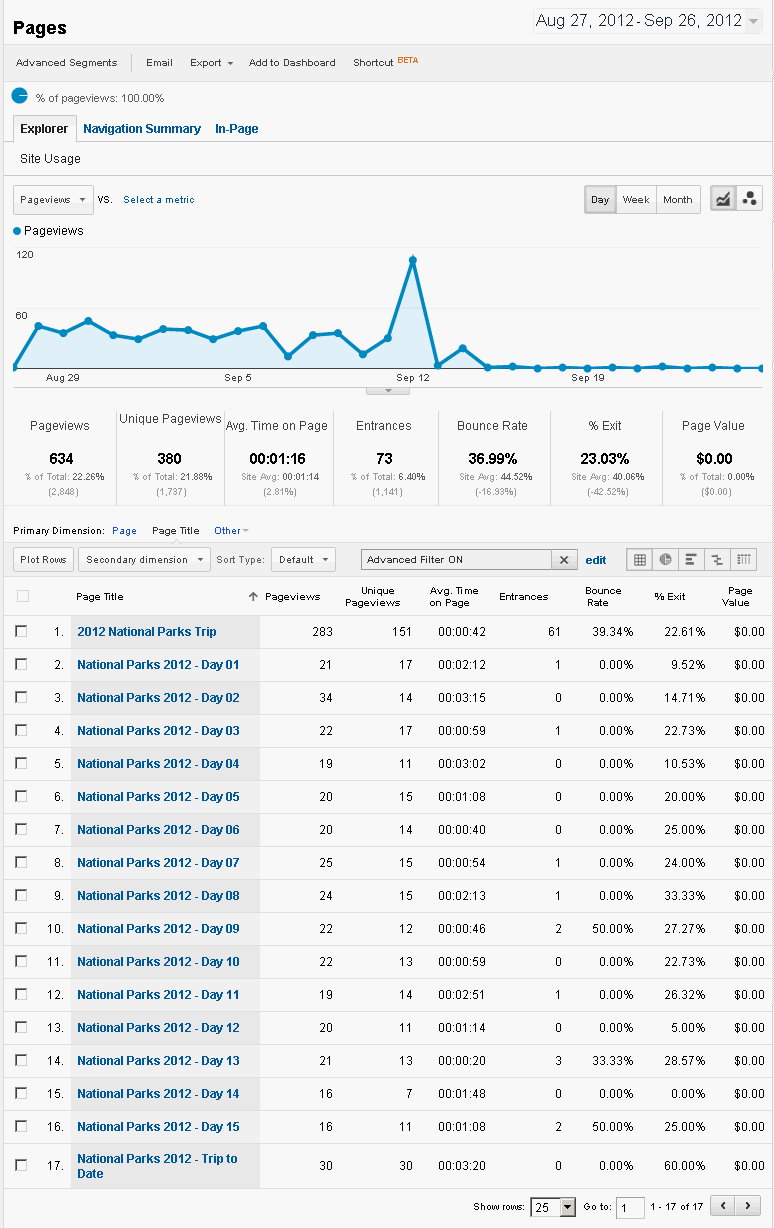 You can see that, for the month, we had 634 page views and, of those, we had 380 unique page views for this trips pages which compare with 376 page views and 271 unique page views for our 2011 trips pages. I was interested to see how that compares to the rest of the site so I did a report for the same period but for the entire site: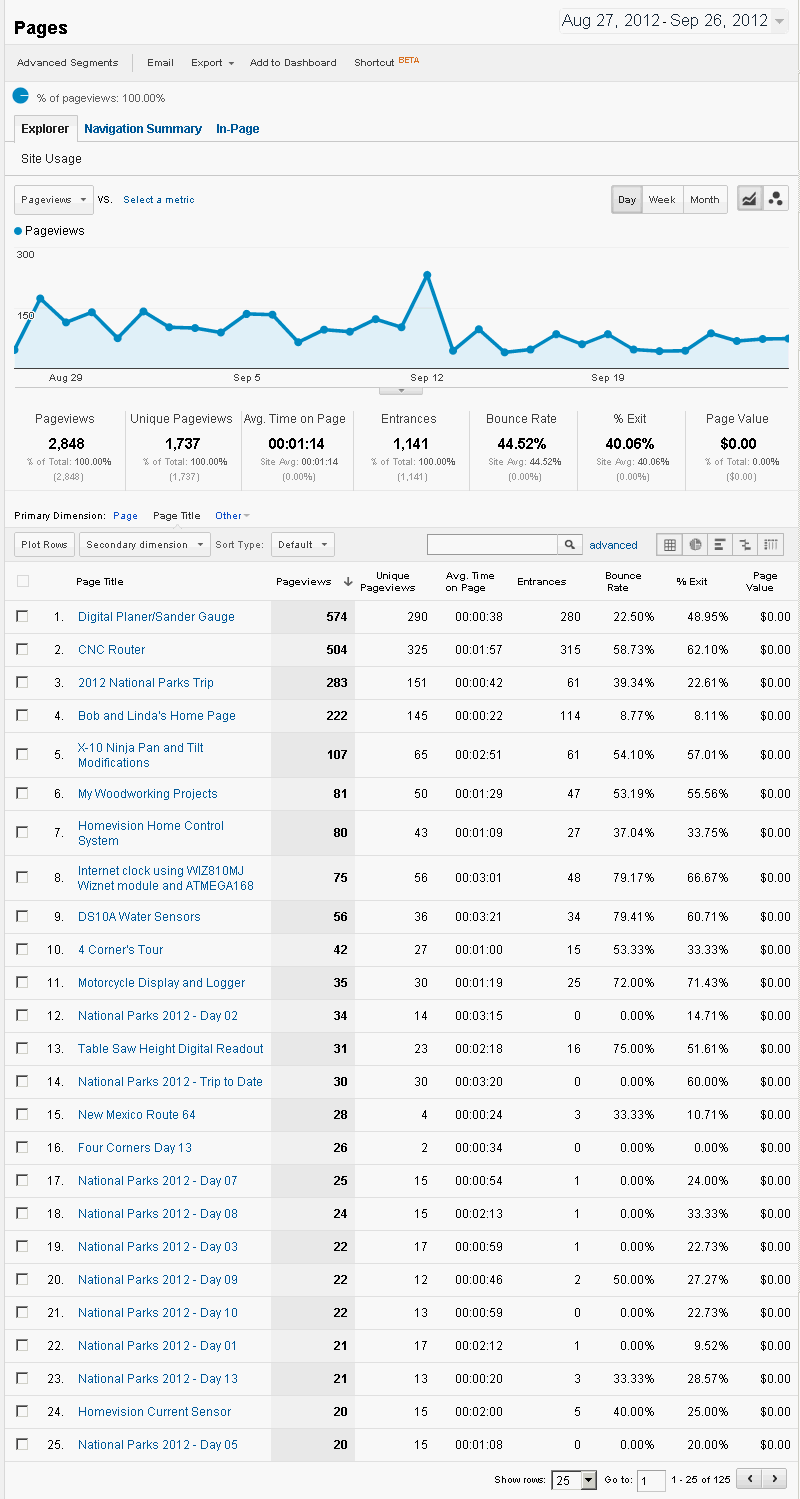 As you can see only 1 of the National Parks 2012 pages even made it into the top ten. The above chart only includes the top 25 of 125 different pages viewed during the month and the site had 2848 page views and 1737 unique views for the month which again compares with 1968 page views and 1338 unique page views for the same period last year. This represents a 45% increase in page views and a 30% increase in unique page views over the same month the previous year. I was definitely surprised by that because I really don't check out my statistics that often. Okay, enough statistics.


Final Thoughts and Plans
This is our eighth year in a row of taking an extended motorcycle trip and documenting it on the web although one year we had to cut the trip short due to illness.

Overall the trip and the weather were great. We were on the road a total of 15 days and had about 2 hours total of rain. We actually never even put on our rain gear. We had an hour of rain in southeastern California and it was so hot that the rain felt great and we dried out almost immediately. The second hour of rain was coming out of Sedona. It wasn't raining when we left the hotel but started raining within a quarter mile. At that point we just decided to go without the rain gear. We got pretty wet in the next 30 miles but again dried out pretty quickly when we hit Flagstaff. We also put on our heated vests once or twice but only plugged them in the final day leaving eastern Washington and entering the mountains.

We made one stop along the way, but just overnight. We stopped in Boise to spend an afternoon and evening with my brother, John, and his wife, Barbara, and had a great dinner with them and their daughter, Sarah, who also lives in Boise. We hadn't been to their house in several years and enjoyed seeing the new addition for Barbara's studio where she creates amazing jewelry and small sculptures. You can see some of her creations on her web site. They were great hosts and we will certainly be back again soon.

The Goldwing as usual was flawless. During the winter I replaced the fuel reserve sensor and it worked just fine. We also purchased a new cover for the bike to be used while parked at the motel. The purpose is really just to keep the leather seats dry in case of rain so we purchased a half cover this time instead of a full cover like we had previously. For the second trip in a row, we didn't need to replace any tires along the way. In fact the rear tire didn't really look any different after the trip then it did before. I can't really think of anything we would do differently to the bike for the next trip.

Last year we damaged the Canon SD940IS camera that Linda carries and uses to take pictures from the back of the bike. After a bit of trouble, we got the camera repaired over the winter and the camera worked fine. I commented after last year's trip that we would take a backup camera this year but forgot and, fortunately, we never needed it. Although we like the camera a lot and it has many great features there is one thing we don't like. The camera has a greater zoom range than our last camera and, since it starts at a lower focal length - 28mm instead of 35mm - all of the pictures look like they are taken from further away and this just doesn't always work for us. The problem is that it just takes too long and it's too hard to zoom the camera from the back of the bike while trying to take a picture at 60 miles per hour. We may look for a different option next year.

I have a new wired modulator for the Roady2 XM Radio but the antenna connections are kind of a pain to deal with so I thought I would try to keep the radio in wireless mode the entire trip to see if I could remove the wired modulator. This works about 95% of the time. The problem comes in when you enter a town or area where a station is broadcasting on the chosen FM channel. It's pretty easy to just plug the wired modulator in at that time so I may just keep it and deal with the antenna connections. Overall I can't imagine a trip without the XM radio.

We did have one failure on this trip. Within an hour or so of leaving home my helmet cable failed such that I could hear the music and Linda over the intercom but she couldn't hear me. I carry several old cables that have been repaired but are a little fragile so I replaced the bad cable with one of those spares and it worked fine for the rest of the trip. I have already ordered a new cable ($69.00 !!!) so I won't have to worry about this again.

The GPS logging worked fine. As I mentioned last year, I did use GPS Babel, an open source GPS software product, to simplify my GPS tracks in Google maps. The GPS logs track points every 10 seconds while we are moving. This gives us plenty of detail for the daily maps but, when I do the trip to date map, there are just too many points so the ability to reduce the number of display points without losing detail is great. I made one change to the software this year in that I added a verification of the checksum after every NMEA packet from the GPS module. Interestingly during the entire trip and probably hundreds of thousands of NMEA packets, I didn't see a single bad packet. The one thing I want to improve on next year is the temperature logging. The actual sensor is mounted below the fairing and ahead of the engine so that the temperature is normally not affected by the engine temperature. Unfortunately, whenever we stop, the heat from the engine radiates to the sensor and we get false high readings. I'm not completely sure how to deal this but my initial thoughts are to stop recording the temperature when we stop moving and not to restart until we have been moving for 2 or 3 continuous minutes. This seems to be about the amount of time needed for the sensor to come back to ambient temperature. We'll see how that works.

I don't think we forgot anything this trip. Last year we forgot our lifetime National Parks pass and had to purchase a second one. This year we had both passes with us and we made good use of them.

We made a change in our motel strategy this year. In the past we ended up staying mostly at Super 8 Motels - probably because they are virtually everywhere. The problem is that they tend to be inconsistent - some are very good and some are not. For example, they all advertise as having a quick-start breakfast and we stayed at one that had a toast bar - a loaf of bread and a toaster. This trip we mostly stayed at Holiday Inn Express, LaQuinta, etc. This cost a little more but we were fine with the extra expense. For the most part the WiFi coverage was usually very good. We had problems at one motel in that they just didn't have enough bandwidth around 8:00 or 9:00 in the evening to upload our web pages and pictures. The next morning we were able to upload with ease.

Looking at previous trips, our mileage was pretty much in the same ballpark at 38.2 miles per gallon. We definitely paid the most for gas this trip at an average of $3.86 per gallon as opposed to our previous high of $3.75 per gallon. The total trip length and miles per day both fell kind of in the mid range of previous trips. As I mentioned previously, our average motel cost went from $85.68 per night to $103.70 per night which includes one night at $141. which definitely hurt our average.

We haven't started thinking about next years trip but we have plenty of time to plan. One possibility would be the other half of the TransCanada Highway we have to finish. We'll just have to see what happens. Until next year...