Beartooth Highway - 2011 Trip - Statistics
Total Trip
| | |
| --- | --- |
| Total Days | 19 |
| Days on the Road | 12 |
| Total Miles | 4621 |
| Miles/Day | 385 |
| Low Mileage Day | 164 |
| High Mileage Day | 529 |
Gas and Mileage
| | |
| --- | --- |
| Total Gas Stops | 31 |
| Total Gallons | 126.1 |
| Total Gas Cost | $472.84 |
| Average Miles/Gallon | 36.7 |
| Average Cost/Gallon | $3.751 |
| Low Cost/Gallon | $3.459 - Evanston, WY |
| High Cost/Gallon | $3.999 - Pendleton, OR |
General
| | |
| --- | --- |
| Total States Visited | 12 |
| Total National Parks Visited | 1 |
| Lowest Temperature | 47.7° |
| Highest Temperature | 97.2° |
| Lowest Elevation | 22' |
| Highest Elevation | 10,984' |
| Days with Rain | 0 |
| Nights in Motels | 12 |
| Average Cost/Night | $85.68 |
| Low Cost Night | $63.90 |
| High Cost Night | $114.71 |
| Wireless Connections | 12 |
| Wired Connections | 0 |
| Telephone Connections | 0 |
Web Statistics

As I have often mentioned, statistics can be misleading. There are so many things you can measure and so many ways to measure them. I have used some of the built-in statistics from my host company in the past so I'll show the same ones now for the sake of comparison. These next two charts show the past year's stats for the entire site: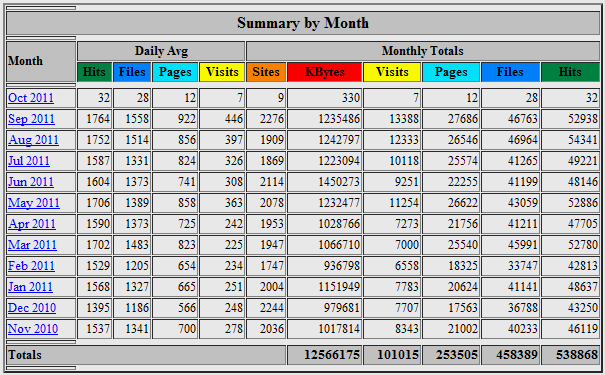 Comparing the September data with September of 2010 - the last full month for last years trip - shows significant growth. In that month we averaged 176 visits per day and 5281 visits for the month compared to 446 and 13388 for the current month.

Here are the daily statistics for September, 2011:



While this is interesting, I want to know more - like how many visits or page views for specific pages. To get that information I have been using Google Analytics which provides way more information than I could ever use. So here's the visits and page views for just the Beartooth Highway 2011 web pages for September:



You can see that, for the month, we had 376 page views and, of those, we had 271 unique page views which compare with 274 page views and 191 unique page views for our 2010. I was interested to see how that compares to the rest of the site so I did a report for the same period but for the entire site:


As you can see only 1 of the Beartooth Highway 2011 pages even made it into the top ten. The above chart only includes the top 25 of 100 different pages viewed and the site had 1968 page views and 1338 unique views for the month which again compares with 1460 page views and 1028 unique page views for the same period last year. This represents a 35% increase in page views and a 30% increase in unique page views over the previous year. I was definitely surprised by that because I really don't check out my statistics that often. Okay enough statistics.


Final Thoughts and Plans
This is our seventh year in a row of taking an extended motorcycle trip and documenting it on the web although one year we had to cut the trip short due to illness.

Overall the trip and the weather were great. We were on the road a total of 12 days and had about 5 minutes total of rain. We did put our rain gear on one time but that was only because it was an exceptionally cold morning and we put it on for warmth. We had our heated vests on several times but only plugged them in a couple of times.

We also had two stops along the way. We stayed 3 days with Mike and Karin in Bismark and then 4 days with Linda's folks in Naperville. We thought about going on to Cleveland to visit my mother but we were getting tired and it would have made the trip too long. The two stops we did make were great. Mike and Karin have a beautiful house and it was nice to spend time with them. It was also nice to visit Linda's folks and see how they were doing.

The Goldwing as usual was great. We didn't have to replace any tires along the way and only added a small amount of air one time. I do need to replace the fuel reserve sensor. I noticed it was not working on the last trip but then completely forgot about it. This time I have already ordered the sensor so I shouldn't forget again. I don't absolutely need it but I just like to have everything working. We have a cover that we put on the motorcycle over night in the motel parking lots - mainly to keep any rain off the leather seats and just to keep people from messing with the bike. After many years and several Goldwings, the cover is finally shot. We have replaced the elastic several times but have decided to retire it. I purchased a new cover and it looks and works very well.

Unfortunately our camera was damaged part way through the trip. We were using a Canon SD940IS. We like this camera because of it's small size and the fact that it has taken excellent pictures in the past. Unfortunately I dropped it at a stop on the Beartooth Highway and after that it had a hard time finding something to focus on. This lead to quite a few blurred pictures. We may even have to take this ride again to get better pictures. The good thing is that I sent it in to Canon when we returned and they are honoring the warranty even though it was a day over the one year warranty period. We don't have it back again but will certainly have it with us again next year - and we may even try to find room for a backup camera.

On the LA or Bust trip we had trouble with the Roady2 XM Radio. It began cutting out on one of the channels and was very annoying. When we got home, I disassembled and re-soldered the audio connector and everything worked great. Unfortunately, about half way through the National Parks trip, the same problem resurfaced. At that time, I switched to using the built-in wireless FM modulator and it worked fine for the rest of the trip so I assumed the problem was with the wired modulator I normally use. I intended to purchase a new wired modulator but forgot that as well. The wireless modulator works fine most of the time but, if you come into a town that has a station that broadcasts on the FM channel you're using, you just get too much interference. I have already purchased a new wired modulator and will install it soon.

We finally replaced Linda's intercom cable before this trip. The previous one was at least 15 years old and had been taped and repaired many times. The new cable worked fine although it seems to be slightly shorter than the previous one and caused Linda to have to plug it in after she got on the bike - an interesting maneuver.

The GPS logging worked fine. On previous trips I had forgotten to plug in the SD card a few times in the morning and lost the data for that day. This time I just plugged it back in after I downloaded the data in the evening so I didn't have to remember to plug it back in in the morning. One thing I noticed was that if I used a lot of points to create the Google map, it can take a lot of time to load. Conversely if I used RoboGeo to reduce the number of points, I lost quite a bit of detail - especially on curvy roads. I thought about trying to re-write my data logger software to do smart logging - many points when the direction was changing but fewer points when traveling in a straight line. While doing research on this subject I found GPS Babel which is open source GPS software that does all sorts of GPS conversions including simplifying an existing log file while not losing detail. I've done a few trials and it seems to do just what I want, I'll use it next year.

We always wonder what we are going to forget and this time it was our 10$ National Parks Pass which you become eligible for at 62. The nice thing was we could just purchase another pass since it was cheaper than the one day admission for one park we would have had to pay. I have already stashed one of the passes on the motorcycle - we won't forget this again.

Similar to last year, we had no motels without wireless Internet connections - although not all motel connections are created equal. We had a few where we had very good connections but lousy speed. This was probably due to bandwidth issues from the motels ISP. If we got in relatively early in the evening, we generally had good bandwidth but, as the evening progressed and more people tried to connect, the connection would rapidly deteriorate and sometimes we would even lose the connection altogether. Some motels probably even only have a DSL connection that is shared with everyone trying to use it. I did try my Virgin Mobile 3G modem but the VM coverage was very poor especially in areas where we had bandwidth problems.

I did a few comparisons to previous trips (excluding the trip that was shortened due to illness). This trip had the lowest gas mileage - 36.7 mpg compared to a range of 38.4 to 41.2 for previous trips. I attribute this to the amount of time we spent on Interstates at 70 - 75 mph. Our mileage goes down drastically as the speed goes up. We also paid the most for gas this trip. We averaged $3.75 per gallon compared to a range of $2.60 - $2.98 for previoius trips. This excludes our TransCanada trip where we paid $3.80 per gallon. This was our shortest trip at 4,621 miles compared to 4,980 to 11,059 for previous trips. It was also our second most miles per day at 385 miles. Previous trips averaged 304 to 424 miles per day. Finally, again excluding the TransCanada trip, we paid the most for motels this trip. We averaged $85.68 per night compared to previous trips where we paid $72.05 to $77.06.

We have already started thinking about the next trip. As we mentioned last year we still have 4 National Parks that are sort of in the west that we have not visited. They are Big Bend NP, Guadalupe Mountains NP, Carlsbad Caverns NP, and finally Saguaro NP. Visiting those 4 would probably make for a nice trip, unfortunately they would probably be pretty hot in September. Linda is suggesting loading the Goldwing onto our trailer and driving down there in February or March when the weather will be pretty nice. Another possibility would be the other half of the TransCanada Highway we have to finish. We'll just have to see what happens. Until next year...