| | | |
| --- | --- | --- |
| | Inaugural Trike Tour - 2015 Trip - Day 18 | |
Start Location: Cooke City, MT
Ending Location: Jerome, ID
Miles Today: 404
Trip Miles: 2512
States Visited: 5
Provinces Visited: 0
Low Temp: 35.0° F
High Temp: 88.8° F
Min Elevation: 3381'
Max Elevation: 8882'

Route Map:

Trike Tour Day 18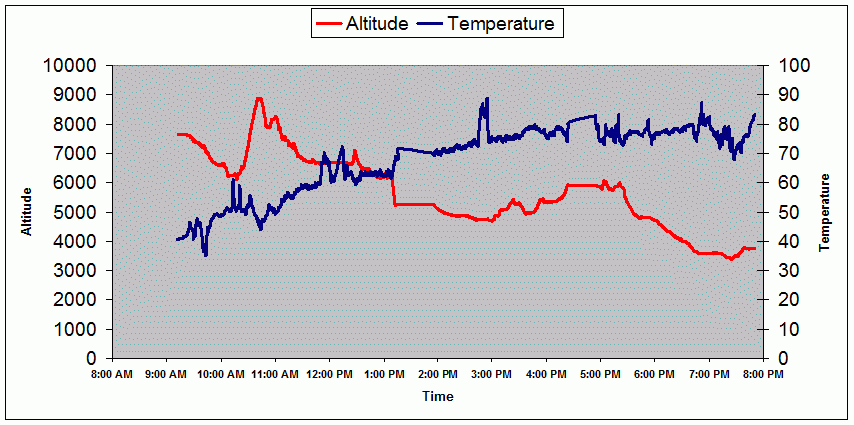 We started out in Cooke City at about 41 degrees and assumed it would get warmer as we road. We were wrong - within a half hour the temperature had dropped to 34 degrees.
Within only a few minutes after we started out, we arrived at the northeast entrance to Yellowstone, we have exited here but this is out first time to enter here although we have been to Yellowstone many times over the years. Other than being cold, the traffic was very light. We saw a few lone bison and a small herd of what we think were antelope. Shortly after that we ran across a small herd of bison that decided to cross the road. Cars were stopped in both directions and, every so often, there would be a break and one or two cars would squeeze through. These are very large animals, especially when they are so close. We felt especially vulnerable being on the motorcycle instead of a closed up car. Fortunately they appeared to pay no attention to us or any of the cars. We eventually got through and continued on with the ride. Again we saw some of the areas that had been burned in the big fire there a while back.
We exited the park at West Yellowstone and picked up route 20 which we were on most of the rest of the day. Late in the afternoon we arrived at Craters of the Moon National Monument which we had never previously visited. It was late in the afternoon and we still had a ways to go to find a room for the night, so we just stopped at the visitor center and watched a short 25 minute video about the history of the Monument and then road the short loop road through the Monument.
After leaving the Monument, we road to Gooding, ID where we assumed we would fine a motel - bad assumption. We found three motels - none of which we decide were stayable, even though we generally have relatively modest standards. Using the Garmin GPS, we located a Best Western in Jerome and followed the GPS to the motel location. By the time we finally checked in, it was almost 8:00 and we were definitely tired. We did however opt for a quick dip in the hot tub.