| | | |
| --- | --- | --- |
| | Inaugural Trike Tour - 2015 Trip - Day 17 | |
Start Location: Hulett, WY
Ending Location: Cooke City, MT
Miles Today: 383
Trip Miles: 2108
States Visited: 5
Provinces Visited: 0
Low Temp: 42.9° F
High Temp: 95.2° F
Min Elevation: 2895'
Max Elevation: 10973'

Route Map:

Trike Tour Day 17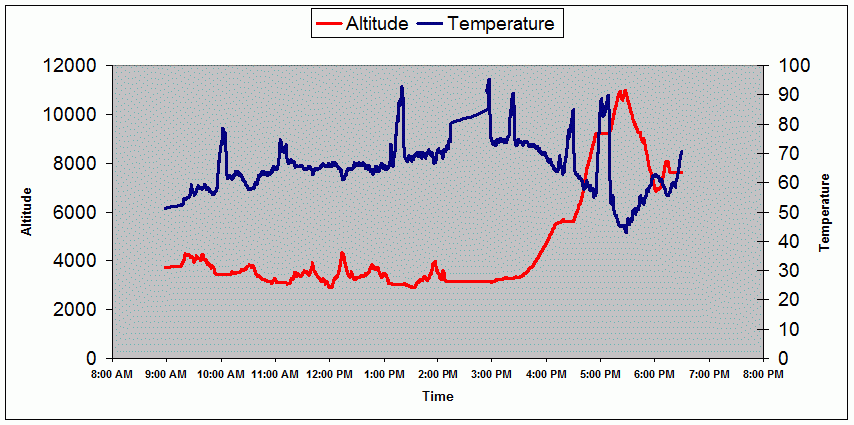 Today was a very pleasant day. When we left Hulett, it was a little cool but the roads were virtually empty and the temperatures were reasonably comfortable. The first 30 miles were on route 112 and we never saw another car the whole distance - we saw just one pickup and it was going in the opposite direction.
From there we took route 212 west and Linda thought we saw more dead animals than cars. We saw deer, possum, skunk, rabbits, and some unidentifiable. We did see one live deer but we slowed down and let him cross in front of us. We also saw a family of turkeys but they backed down and let us go first.
We eventually reached Red Lodge which is the gateway to the Beartooth Highway and Beartooth Pass. We did this highway several years ago but in the opposite direction. That time we were on two wheels and actually had rain and sleet at the top of the pass. This time was much better. Although the temperature dropped to 44 degrees, the skies were completely clear and there was very little traffic. We think that the ride from east to west was actually better than the other direction. This is a great road and the trike performed great. In Red Lodge, we road the main road twice looking for a visitor center that we both remembered from our last trip. We never found it but, when we were leaving Cooke City, there it was - we certainly 'misremembered' that.
We spent the night in Cooke City where we stayed in a "Rustic" motel and had a $20.00 pizza and good wine - a great way to end a terrific day.