Trans-Canada - Final Statistics
Well I finally got around to compiling the obligatory statistics.
Total Trip
| | |
| --- | --- |
| Total Days | 19 |
| Days on the Road | 17 |
| Total Miles | 6081 |
| Miles/Day | 358 |
| Low Mileage Day | 166 |
| High Mileage Day | 442 |
Gas and Mileage
| | |
| --- | --- |
| Total Gas Stops | 39 |
| Total Gallons | 155.756 |
| Total Gas Cost | $506.16 |
| Average Miles/Gallon | 39.0 |
| Average Cost/Gallon (Canada) | $3.809 |
| Low Cost/Gallon (Canada) | $3.411 - British Columbia |
| High Cost/Gallon (Canada) | $4.432 - Ontario |
| Average Cost/Gallon (US) | $2.922 |
| Low Cost/Gallon (US) | $2.599 - Columbia, Missouri |
| High Cost/Gallon (US) | $3.699 - ?, Wyoming |
General
| | |
| --- | --- |
| Total States Visited | 12 |
| Total Provinces Visited | 5 |
| Total National Parks Visited | 0 |
| Total National Monuments Visited | 0 |
| Total National Rec. Areas Visited | 0 |
| Lowest Temperature | 48.8° |
| Highest Temperature | 102° |
| Lowest Elevation | 0' |
| Highest Elevation | 6409' |
| Days With Some Rain | 3 |
| Baseball Bats Under the Bed | 0 |
| Mornings Without Hot Water | 0 |
| Nights in Motels | 16 |
| Average Cost per Night | $87.99 |
| Average Cost per Night (Canada) | $102.01 |
| Average Cost per Night (US) | $77.09 |
| Wireless Connections | 15 |
| Wired Connections | 0 |
| Telephone Connections | 1 |
Web Statistics
Web statistics can be really tricky. Most people talk about 'hits'. The problem with hits is that if you open a site like our main 3 Flags Page, all 3 flag images are loaded as well as the image of the background texture - so you get 5 hits for the one page. If you want to know more than you care to about this subject, see this link for info on web site statistics. For our purposes we will look at visits even though we acknowledge that it may not be perfect.
This chart shows the year to date stats for our site: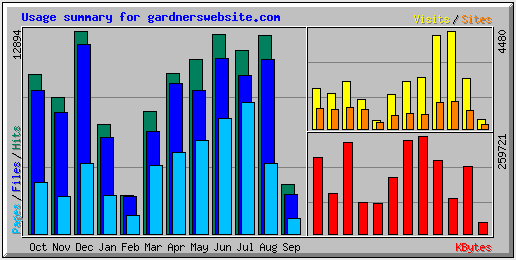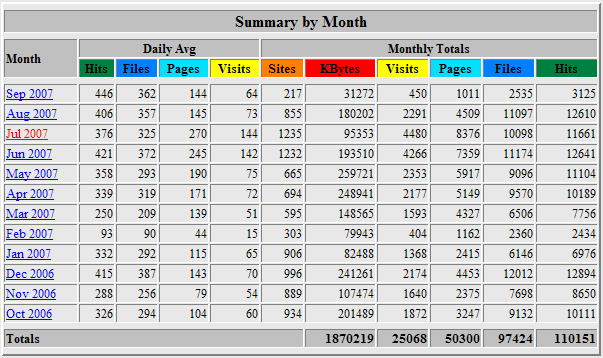 As you can see, we had 2291 visits during August and 450 visits during the first 8 days of September. This compares to 2242 visits during the August/September time frame last year and 741 visits the previous year during the same time frame. Although we are definitely getting increased traffic on the web site, I suspect that some of this activity is due to search engines. There seem to be more and more search engines and they are scanning more and more sites. Here are the statistics by day for those two months.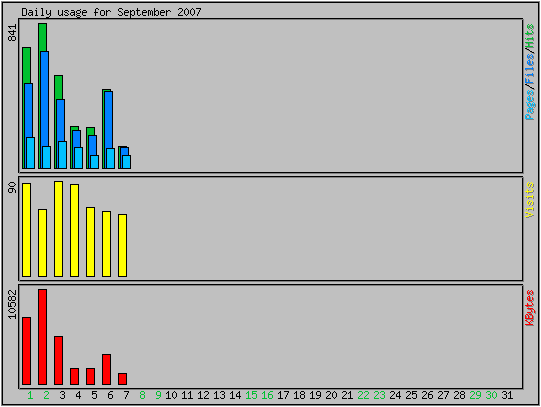 It looks like the biggest days during the time we were gone were August 28th with 86 visits and September 3rd with 80 visits.
General Thoughts
Another great trip. Six months ago, during the middle of my chemo, I wouldn't have given very good odds that we would be going out on another trip this summer. Even when we left, we weren't sure how long we would last. But I felt great and I didn't have any problems at all.
Although we spent some time in Canada during our 4 Corners Trip, this was probably the most we had been in Canada at one time. The scenery was nice, the roads were fine, and the people were very friendly wherever we went. The unfortunate part is that Canada tends to be somewhat expensive - especially with the value of the US dollar these days. There was virtually no exchange rate, people accepted US dollars at face value. You can see that we averaged almost a dollar a day more for gas in Canada. Motel rooms also averaged close to $25. per night more than in the US - although this was skewed by a night in Banff at $199. Without Banff, the average was about $8. per day more expensive in Canada. Food and groceries also tended to be more expensive.
Once again the bike performed flawlessly. The only issue we had was the front tire - and that was my fault. With the uncertainty leading up to the trip, I had neglected to check out the condition of the tires and the front tire was pretty well worn. I realized it while we were crossing Canada and I decided that we could wait until we got to Naperville. As it was, we noticed a large Honda dealer in Menominee Michigan - just across the border from Marinette Wisconsin, where we were staying one night. We showed up at the dealer the next morning and were back on the road in less than an hour and a half with a new front tire and an oil change.
One of the things we said we were going to look into after last years trip was heated clothing. After a fair amount of research we decided that heated vests would be the way to go and that Gerbing seemed to be a popular choice. We bought two Gerbing vests and two permanent mount temperature controllers. The vests come with direct plugin cables but they didn't offer any type of control, the heat was either off or on. We opted for the variable controllers and were very happy with our choice. Although we used the vests several days, we only plugged them in one day and they were terrific. I would highly recommend them to anyone who might be riding in colder weather. We also said we were going to look into a custom seat. I didn't do that but definitely will before the next trip. It still looks like Russell is the way to go.
We stayed at both chain motels as well as mom and pop and large independent motels. I think that our stays at Super 8 Motels were the most consistent. We stayed at Super 8s for 9 out of 16 nights. They all had free wireless internet as well as free Super Start breakfasts. You can also make reservations ahead of time either through their web site or with an 800 number. We preferred the 800 number since you could get an AARP discount that way. Several times we would look at the Super 8 book sometime in the afternoon, see where we thought we would get for the night, and call ahead for a Super 8 reservation. I think we will probably stay at even more in the future. It's kind of like MacDonalds - you always know what you're going to get.
Speaking of wireless internet, all but one motel had free wireless. The one that didn't was a fleabag lower end place in Kenora, ON. We ended up there because all of the other motels seemed to be full - at least all of the ones we tried. There must have been something going on in town, but we never found out what it was. We had to use a dialup connection here and it worked but was painfully slow. We did have minor problems at a couple of other independent motels. At one, we could get an IP address from our room but couldn't get a gateway so we couldn't get on the internet. We had to go down to the lobby to get an internet connection. This worked but it was also the most expensive place we stayed and should have been better. The other problem was an independent in Missoula where we had to go down and request them to reset their modem which appeared to be locked up. Then we got a good connection.
After last years trip we said we were going to attempt to streamline the process of creating the web site each evening and we did that to a certain degree. One of the time consuming processes was selecting the pictures to use, resizing and naming them, and then working them into the dialog each night. This year we used a program called FastStone Photo Resizer. This program handles batch renaming, resizing, and a host of other features we didn't use. All we did was quickly review the pictures with Irfanview to eliminate out of focus and blurred pictures then pass them through the new program. The program we use to create the map - RoboGeo - also has a feature to create quicklinks for each picture so we didn't have to work individual pictures into the writeup. This saved a lot of time. We also cropped several pictures. Linda has always tried to zoom the camera to get better shots of signs like the state welcome signs but trying to zoom caused her to miss several shots since she is doing this while we are moving. We discovered that she could take the pictures without zooming and, because we take the pictures at a high resolution, we could crop the shots to get the sign and still get decent resolution. The other thing that takes time is piecing together the files from the Forerunner GPS. Because of the size of the internal track buffer in the GPS (it was never really meant for this type of use) I had to reset the track every 150 miles or so. This has the effect of compressing the number of track points and creating separate files that need to be joined together. I wrote a little program that handles the joining (after we got back), but I think for next year we will purchase something like a GeoChron that's meant for what we are doing. It will easily be able to log a whole day in one file and, because it uses an SD memory card, we won't need a pouch full of cables, USB to serial adaptors, and wall warts.
I did add a couple of new features to the web site this year. I added next and previous arrows at the top of each days page to make it easier to navigate through a trip. I found myself going back to check out something from a previous trip and had to keep going back and forth between the main trip page and and individual day pages. The other thing I added was the complete trip map where the whole trip is on one map. I like this a lot and, although it loses some resolution, it's nice to see the entire trip on one page to get some perspective. In fact, I liked it well enough to go back and create similar maps for each of our last two trips previous to this one. Next year I will probably try to add some more Google Map features like scroll wheel zooming.
I had another an interesting discovery. We have Honda Riders Club Insurance - like AAA but for motorcycles. In fact, that's one of the reasons I have a cell phone. Unfortunately, I never thought too much about coverage and my phone had no coverage most of the trip. I'll have to look into that further for the next trip.
Until next year then, thanks for joining us.
Back