| | | |
| --- | --- | --- |
| | National Parks - 2012 Trip - Day 10 | |
Start Location: Carlsbad, NM
Ending Location: Gallup, NM
Miles Today: 415
Trip Miles: 3334
States Visited: 7
National Parks: 5
National Monuments: 2
Low Temp: 80.0° F
High Temp: 97.1° F
Min Elevation: 3110'
Max Elevation: 7284'

Route Map:

National Parks 2012 - Day 10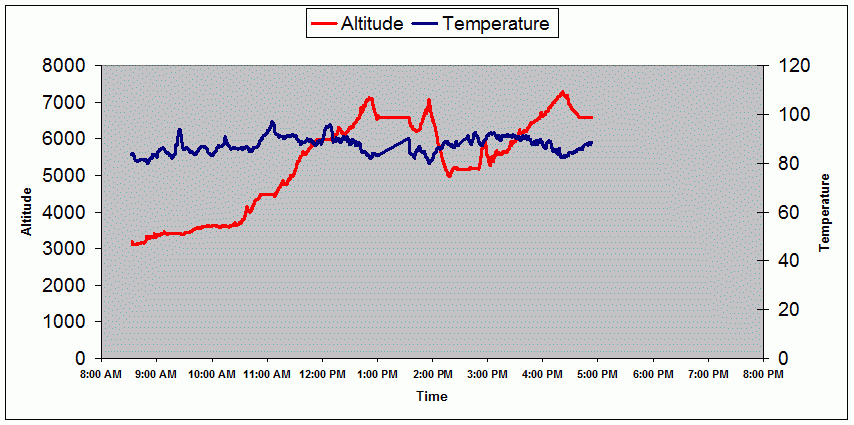 We left Carlsbad this morning and headed north on route 285 for almost 200 miles. Along the way we drove through Roswell which is famous for aliens and the mysterious Area 51 but people in the northwest know that the real Area 51 is actually right field in Safeco Field - or at least was for the last 10 years.

Most of the rest of the route was uninspiring. We think we saw more abandoned buildings and businesses than ones that were in use. Some of this area is pretty forbidding. We stopped at a rest area and found the only tree for miles around for some much needed shade. The temperatures were in the high 80s and low 90s so definitely a little better than the last few days. We arrived at I-40 around 1:00 and stopped at a rest area for lunch.

Once on I-40 we headed west and passed through Albuquerque and stopped at the Petroglyph National Monument. Unfortunately, you have to hike to view any of the petroglyphs and, as I have stated before, we really aren't set up for hiking. From the Monument we went straight through to Gallup, NM where we spending the night.

We have a plan now. Tomorrow we will head to Sedona, AZ with a stop along the way in the Petrified Forest National Park. We have been there before but it's on the way and we will have plenty of time. We have been through Sedona before but never stopped there, besides that the ride down from Flagstaff goes through the Oak Creek Canyon which is spectacular. From Sedona we are thinking of heading to Las Vegas for a night and probably a Bellagio fountain viewing. From Las Vegas we will head north on I-15 with a possible stop at Bryce or Zion before finally heading for home.