| | | |
| --- | --- | --- |
| | National Parks - 2012 Trip - Day 6 | |
Start Location: Yuma, AZ
Ending Location: Tucson, AZ
Miles Today: 290
Trip Miles: 1922
States Visited: 5
National Parks: 2
National Monuments: 1
Low Temp: 88.8° F
High Temp: 121° F
Min Elevation: 187'
Max Elevation: 3236'

Route Map:

National Parks 2012 - Day 06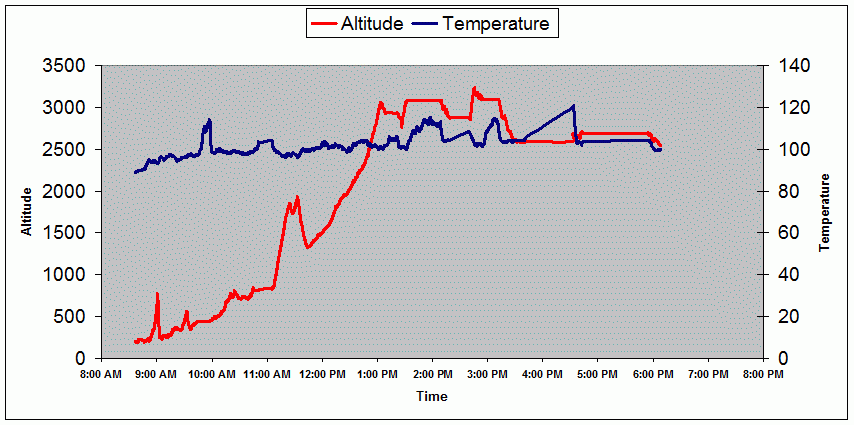 It's just too frigging hot down here! When we left the motel this morning it was 89 degrees and it hovered right around 100 all day. The most interesting thing we saw during the ride across Arizona was a huge army convoy. I have no idea where they were coming from or going to. We also went through an immigration inspection station this morning. I had for gotten about these. We only had a few seconds delay but yesterday we saw one going the other direction outside of El Centro and the backup had to be at least a mile. I can't imagine sitting in a line like that with temperatures in the 100s and no shade.

Saguaro National Park is actually composed of two parts. The western section is south and west of Tucson and the eastern section is north and east. Apparently the western section is more primitive - some dirt roads, etc, - and the internet warned of road closures there as well so we visited the eastern section.

We arrived at Saguaro National Park around 1:30 and, after eating our lunch, visited the small visitor center. They were in the process of upgrading and remodeling so only about half the building was open and the facilities were composed of a line up of porta potties outside. There were also several gardens with many types of cactus. One of the interesting thing we saw was about 6 or 8 Javalinas right outside the windows of the visitor center. They were laying in the dirt apparently trying to keep cool. We did get a few good pictures of them.

Although the park is huge, most of it is accessible only by hiking or biking. Vehicle access is an 8 mile loop that is mostly one way. There were very few people in the park and we road the loop stopping several places along the way including a short self-guided hike. The park, or at least the part we saw, was mostly composed of Saguaro, Prickly Pear, and Ocotillo cactus as well as mesquite trees. The park is within the Sonoran Desert as opposed to the Colorado and Mojave deserts that we were in yesterday. The park was nice but, at these temperatures, we were glad that the loop was not too long. I'm ready for some nice cool caves.

After we left the park, we found a motel and headed to church at St. Francis De Sales in Tucson. I think that 5:00 is the geriatric mass but they probably thought we fit right in.

We head for Texas tomorrow and hopefully will be in Big Bend the following day.