| | | |
| --- | --- | --- |
| | National Parks - 2012 Trip - Day 2 | |
Start Location: Kennewick, WA
Ending Location: La Pine, OR
Miles Today: 280
Trip Miles: 521
States Visited: 2
National Parks: 0
National Monuments: 1
Low Temp: 66.8° F
High Temp: 89.8° F
Min Elevation: 193'
Max Elevation: 5002'

Route Map:

National Parks 2012 - Day 02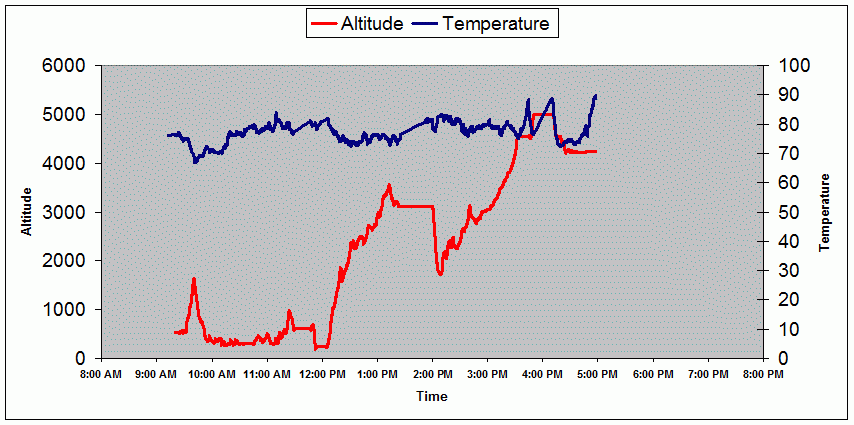 I'm still not completely sure what my problem was last night - with the possible exception of fatigue from the first day out. Anyway everything seems to be working now so we are back on line.
Today was a pretty easy day. We left later than normal - around 9:30 - due to my obsession with trying to get everything working correctly. With the exception of a few miles at the very beginning of the day, we were off the interstates all day. After leaving Kennewick, we went south on I-82 for a short time and then picked up route 14 which runs along the north shore of the Columbia River on the Washington side. This is a nice scenic ride and there was very little traffic. The only problem was a 32 mile long construction section. We ran into this about 50 miles west of I-82. They were doing a tar and chip covering on the road and only using one lane so we had to wait a short period of time for the pilot car to guide us. Fortunately we were on the side that was already cured so it wasn't too messy. The biggest concern were the signs that said "Motorcycles Use Extreme Caution" and "Loose Gravel". Neither of these caused us any real problems.
Shortly before we reached route 97 and the bridge across the river to Oregon, we stopped at the Washington Stonehenge Memorial. This memorial was built in the early 1900's and is a full scale model of the original Stonehenge in England. It was originally commissioned and built as a memorial to the men of Klickitat County who were killed in World War I. There is a separate memorial at the same site to all of the service men from the county killed in all wars right up to and including Afghanistan.
After we left the memorial, we crossed over into Oregon and immediately had to stop for gas. Normally I try not to stop for gas in Oregon but we really don't have much choice this year. For those who aren't familiar with Oregon, they have a law that an attendant must pump your gas. Ostensibly this is to preserve jobs. They don't normally pump gas into motorcycles though since many bikers are concerned about possibly getting gas spilled on their bike. So when you pull up on a motorcycle, they have to take your credit card, swipe it, give it back to you and then hand you the nozzle - drives me crazy.
With our gas tank topped up we headed south on 97 through Madras, Redmond, and Bend before stopping at the Newberry National Volcanic Monument. We started at the Lava Lands Visitor Center and signed up for a drive to the top of Lava Butte. Lava Butte is only a short drive - about 2 miles - but a very steep and narrow road that spirals around the butte and takes you to a lookout station with amazing views in all directions. Here's a satellite view of the ride (this is a static picture, the links don't do anything). It was a little smokey but still a worthwhile visit and even included a short quarter mile hike for a better view of the lava fields.
After leaving the Monument, we headed for La Pine where we will spend the night.