| | | |
| --- | --- | --- |
| | National Parks - 2010 Trip - Day 12 | |
Start Location: Cedar City, UT
Ending Location: Cedar City, UT
Miles Today: 203
Trip Miles: 3652
States Visited: 8
National Parks Visited: 9
Low Temp: 50.7° F
High Temp: 83.4° F
Min Elevation: 5748'
Max Elevation: 9911'

Route Map:

National Parks 2010 - Day12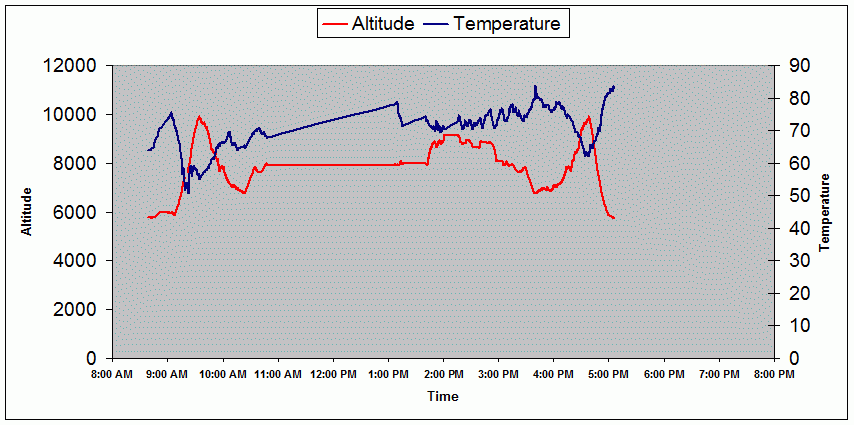 Today was an out and back day. So many of the motels are full around here that it made the most sense to come back and stay in Cedar City again tonight. Today also had several surprises. We headed out of town on route 14 today and got the first surprise. Although it looked like a normal two lane road on the map, within a few miles we entered a deep canyon that got vary narrow - so narrow that at some points we lost all of the satellites on our GPS logger. Then the road began to cimb quickly all the way to 9900' and the temperature dropped dramatically to almost 50 degrees. Except for the temperature part, this was a nice ride. The we took route 89 north to route 12 where we got our next surprise - a 7 mile construction zone where the road surface had been scraped to make way for re-paving. The road was deeply grooved and very rough - not a good motorcycle road. The next surprise was heavy smoke as we entered the park due to a controlled burn they were performing.

Once in Bryce Canyon National Park, we stopped at the visitor center and viewed a short film on the nature and history of the park. We think that this is our 4th visit to this park and we still are awed at the beauty of the deep canyons and amazing hoodoos. Due to an ever increasing number of visitors and the lack of parking spaces, several parks have instituted a shuttle bus system for moving people through the park. We have used the system at Zion and the Grand Canyon and Bryce Canyon has now instituted a similar system. It is optional but many people seem to be using it. We used the shuttle to visit all of the popular view points and then road the rest of the way to the end of the park on the bike. We spent several hours in the park and took lots of pictures. We were here in 2001 with Jason, here's a picture of him at one of the tunnels in Red Canyon and here's the same tunnel today (we didn't do a kartwheel).

When we left the park we got another surpise - the burn had gotten large enough that they had to control the entry and exit of vehicles into the park. They were only allowing one way traffic so we had to wait for our turn to exit. Then we got the last surprise on route 14 on the way home. We're not sure exactly what the road crew was doing but they had some kind of a vehicle that was like a huge leaf blower and they were blowing the shoulder of the road and creating a dust cloud so thick that you couldn't see 10 feet in front of you. We had to slow way down and really worried about someone behind us running into us. The motorcycle, and us, were covered with a layer of dust.

We have a slight change of plans for tomorrow. Although I checked the tires on the motorcycle before we left and they looked fine, the front tire has developed some scalloping and I would prefer not to ride another 1500 or so miles on it. We have located a tire at a dealer in St. George so we are heading there tomorrow morning. Hopefully then we will head to Zion for the afternoon.

Then tonight we tried to wash clothes and, once we had washed everything, we discovered the dryer wasn't working correctly. We're hoping the clothes will dry in the room tonight. Always something.