| | | |
| --- | --- | --- |
| | National Parks - 2010 Trip - Day 11 | |
Start Location: Moab, UT
Ending Location: Cedar City, UT
Miles Today: 341
Trip Miles: 3449
States Visited: 8
National Parks Visited: 8
Low Temp: 68.3° F
High Temp: 97.6° F
Min Elevation: 3975'
Max Elevation: 8407'

Route Map:

http://en.wikipedia.org/wiki/Hoodoo_%28geology%29
National Parks 2010 - Day11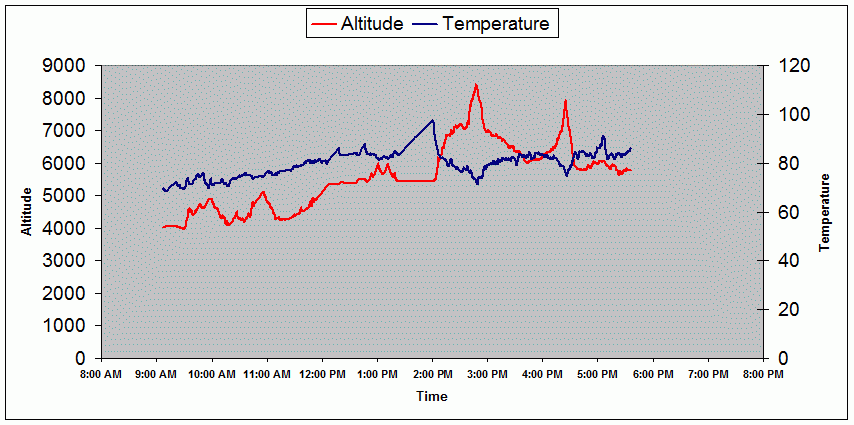 We slept in this morning so we got a little bit of a late start but were still on the road by about 9:15. We continued north on route 191 out of Moab to I-70 which we took west for only about 30 miles. Finally we exited to route 24 which would lead us to Capitol Reef National Park.

Capitol Reef, like much of southern Utah is composed of colorful canyons, buttes, and monolithic rock towers. Route 24 actually passes through the park and this is one of the parks with no entry fee, so we didn't need to use our pass. The park is long and narrow being 100 miles long but much narrower. We road route 24 and took plenty of pictures while also stopping to take pictures of some of the many petroglyphs in the area. We also stopped at the visitor center and took an 8 mile scenic drive south into the park. The drive was actually 10 miles but the last 2 miles are gravel and we decided to forego that. We also stopped at a large picnic area where we ate lunch and met a nice couple from Scotland who were here on a National Park bus tour. They had a group of 44 people from Great Britain, Wales, annd Scotland. They arrived in Denver on September 2 and will be leaving Friday from Phoenix. They were enjoying the tour but had been so many places that they were having a little difficulty remembering where they had been and when - we can certainly sympathize with that.

Speaking of meeting people, I forgot to mention that when we were in Alamosa we met a couple from Australia. They were on a Harley that they had shipped over here to tour. They had been on the road since July 10th and were going to be here for another two weeks before heading home.

Once we left the park, we worked our way northwest for a while and then headed southwest to our final destination for the night in Cedar City, Utah. Traveling in this part of the country can be a real adventure. The two lane roads we chose this afternoon didn't look very special on the map but we passed over two passes in the 8000' range and had beautiful twisting roads interspersed with long roads that seemed to go all the way to the horizon. Like usual - no traffic. It's seldom boring here.

We will head to Bryce Canyon National Park tomorrow morning and plan to return to Cedar City tomorrow night to wash clothes and rest up for the push home. We're looking forward to this one since it is one of our favorite parks - can you say hoodoos. We plan to spend several hours just riding around in the park and stopping for the views.