| | | |
| --- | --- | --- |
| | National Parks - 2010 Trip - Day 5 | |
Start Location: Medora, ND
Ending Location: Wall, SD
Miles Today: 360
Trip Miles: 1738
States Visited: 5
Provinces Visited: 0
Low Temp: 50.2° F
High Temp: 85.4° F
Min Elevation: 2286'
Max Elevation: 3972'

Route Map:

National Parks 2010 - Day05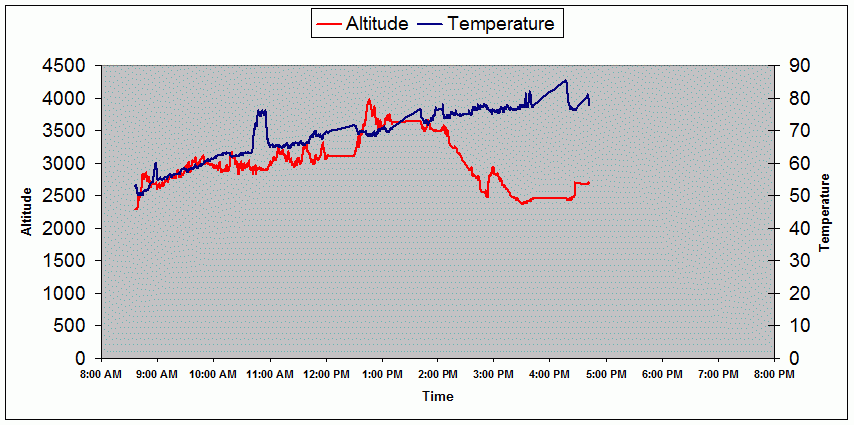 Today was a great motorcycle day. We left Medora under clear skies and bright sunshine. It was a little cool at 50 degrees but by 9:15 it was already warmer than it got all day yesterday. By 10:00 it was in the 60s and by the afternoon it was in the mid to high 70s. We took Route 85 south for about 200 miles all the way to Belle Fourche, SD - a popular destination during the Sturgis Bike Rally every year. There was little to no traffic and the road, for the most part, was dead straight. We would come up over a slight rise and you could see the road stretching out in a straight line all the way to the horizon. The lyrics of the Woodie Guthrie song - This Land is Your Land - kept running through my head, especially the part that goes:

As I was walking a ribbon of highway
I saw above me an endless skyway
I saw below me a golden valley
This land was made for you and me

Once we got to Spearfish, we hopped onto I-90 for a few miles to Rapid City where we got off and picked up Route 44 that took us to the east entrance of Badlands National Park. Once inside the park, we stopped at the Visitor Center to pick up a map and kind of figure out what we wanted to do. We also watched a 15 to 20 minute film about the park and the origins of the Badlands. It was very informative and, unlike the film at Theodore Roosevelt Park, well worth the time.

The park itself was amazing with stark contrasts between miles of prarie and grasslands and incredible stone pinnacles and plateaus topped by grasslands. The park began to be formed 38 million years ago by a combination of volcanic activity and a buildup of mud and silt that turned to rock. Then, only about a half million years ago, erosion began to sculpt the stone into its present form. This erosion still goes on today at a rate of about an inch a year. It's quite possible that in another hundred thousand years the Badlands will no longer exist. The ride through the park is about 32 miles with plenty of viewpoints and pullouts along the way. There is another more primitive section where much of the bison and other wildlife tend to hangout, but it can only be reached by gravel roads and I wasn't up to fighting an 850 pound motorcycle through that. This park was definitely worth the trip.

After leaving the park, we had an 8 mile drive to Wall, SD. In that 8 miles, which was on somewhat of a backroad, we estimated there were 2 dozen Wall Drug signs. For those not familiar with Wall Drug, it started in 1931 and is the main (only) attraction in Wall and a huge tourist trap. If you are traveling through South Dakota you see Wall Drug signs for literally hundreds of miles. It must be the most advertised location along I-90. For those not familiar with Wall Drug, there's a brief and interesting history here.

Tomorrow it's off to the Black Hills to visit Mt. Rushmore and the Crazy Horse Monument.