| | | |
| --- | --- | --- |
| | Beartooth Highway - 2011 Trip - Day 15 | |
Start Location: Naperville, IL
Ending Location: Gretna, NE
Miles Today: 460
Trip Miles: 2875
States Visited: 10
Provinces Visited: 0
Low Temp: 72.2° F
High Temp: 95.2° F
Min Elevation: 582'
Max Elevation: 1464'

Route Map:

Beartooth Highway - Day15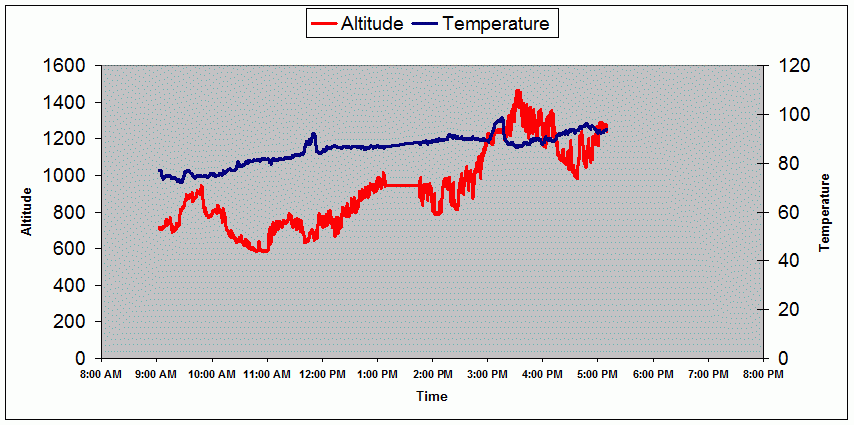 We're on the road again after a nice visit with Linda's parents. Linda enjoyed the reunion but, although the reunion was actually two nights, decided that one night was actually plenty. Her brother and sister-in-law also visited from Indianapolis so it was to nice to see and catch up with them as well.
We may have over-thought things a little bit. We spent a lot of time trying to select a route home for this trip and decided on I-80. The reasoning was that I-80, being further south, would be a little warmer since we were getting into mid September. As we were going through Omaha at 95 degrees we were beginning to re-think our plan.
Overall this was probably the warmest day of the trip so far. When we left Naperville at the temperature was already above 70 degrees and continued to climb all day. We headed west on I-88 for about 120 miles until we hit Iowa and picked up I-80. Not really much to see in Illinois and Iowa was about the same except that it was 300 miles. There were quite a few windmills in Illinois and literally hundreds of them in Iowa. There was plenty of wind all day and the windmills were all spinning. They appear to be arranged in random patterns but I'm sure that there is some technical reasoning for their arrangement. We also saw a number of trucks with huge windmill blades on them - an impressive sight. We were worried that there would be a lot of trucks on 80. As it was, there was a high percentage of trucks but the number of vehicles overall was pretty low so it wasn't too bad. After Des Moines, there were even fewer trucks for some reason. We stopped for the night in Gretna, NE just west of Omaha.
We'll check out the Internet for weather tomorrow but will probably continue west on I-80 through Nebraska and then turn north on I-25 in Wyoming through Cheyenne and Casper and eventually pick up I-90.